What can
SENIOR SMILE

do for you?

SENIOR smile dental care is a blessing for the elderly. My mother had to enter a rehab facility for short term care after being in the hospital for a month. The rehab facility lost her dentures and SENIOR smile went to the facility and handled all of the needed care to replace my mother's dentures as fast as possible. Dr. Thapar-Dua has done everything possible to fit us in her schedule for fittings once my mother left the rehab facility to complete the final fitting. We will need adjustments in the future and I'm sure the doctor will do her best to make the dentures as comfortable as possible for my mother.

SENIOR smile, Dr. Thapar-Dua and her amazing staff (particularly Vanessa), are simply wonderful. They quickly responded to my call for an emergency visit for my 101 year old bedridden Mom (who is in hospice care ). At Mom's apartment, Dr. Thapar-Dua attended to my Mom's toothache and spent time explaining the complex issues involved in her treatment. Vanessa thoroughly explained the necessary post-operative care. I am so pleased that my Mom was able to receive prompt and competent care. After 2 weeks of suffering intense pain, Mom finally is feeling better! I plan to have SENIOR smile return to clean and check Mom's teeth in the near future. I highly recommend SENIOR smile.

After dealing previously with physical and mental strain on both my mother and I just to take her to the dentist and other doctors, It was a BLESSING AND RELIEF on my father and me to be able to have SENIOR smile come to my father's memory care facility to take care of his dental needs and cleaning. SENIOR smile was very accommodating to my father's physical and mental situation every time when they administered treatment to him. He never complained about having his teeth cleaned. I was ALWAYS notified a week before by the SENIOR smile office staff of their upcoming visits to my father's facility asking if I wished for him to be seen and if there were concerns dentally that they would need to check out with him. They were VERY ACCOMMODATING with the billing process and ALWAYS called me if there was a dental problem/condition they discovered during their visit BEFORE they did any work.

I have been extremely happy with the excellent dental care Dr. Chaudhary has provided my loved one at her assisted living facility the past 2+ years. My loved one has dementia and so needs special attention, gentleness, and compassion, and Dr. Chaudhary and her staff have more than met the challenge.

Thank you so much for taking such excellent care of my mother and my aunt. Now that it is difficult for both of them to go out to medical appointments, having someone go to them is absolutely crucial for their continuing care needs. As is common with older folks, they are both very sensitive to how people interact with them and do not always remember who they have met before, so the understanding and caring attitude the SENIOR smile team exhibits every time they visit also helps a great deal. It is a load off of my mind to know that they are both in such good hands. Thank you!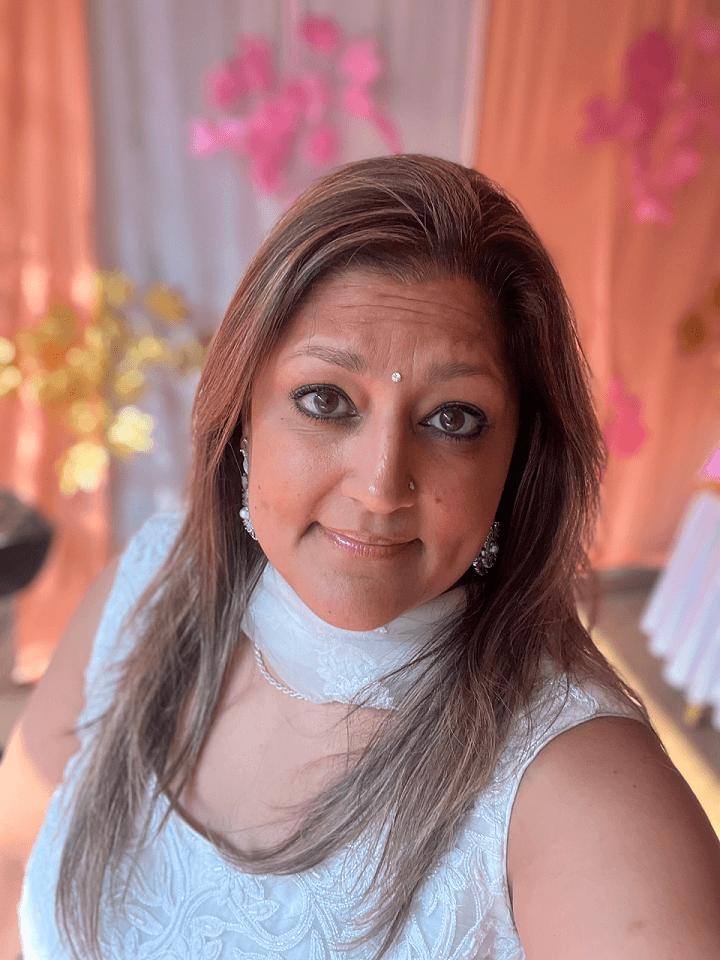 "Creating

MILES OF SMILES…"
At SENIOR smile Dr. Namita K. Thapar-Dua (formerly known as Namita T. Chaudhary or Dr. C) has a passion for the elderly as well as persons bound to their homes. Along with her team of caring dental professionals, Dr. Thapar-Dua provides palliative/emergency dental care for patients at senior living facilities or in their own home. We've designed our mobile dental practice to build upon relationships and genuine compassion to create strong, lasting oral health in the patients we serve. When we visit your home/facility, we will know your name. Dr. Thapar-Dua will call you after major dental procedures to follow up. Our team will be genuinely interested in your life, your family, and especially your smile.
Whether you need regular dental exams and cleaning or basic restorative care (small fillings), or a single extraction or two, Dr. Thapar-Dua will personalize the care for the unique needs for you, your parents, your aunt/uncle, as well as your grandparents. Our team will deliver exactly what you want and need. We expect you or them to enjoy your/their dental visits!
Call to schedule your initial visit SENIOR smile. We travel from Frederick to Bethesda, out to Waldorf and into Washington, DC, and saturated in Virginia. Our mobile dental is equipped with a caring staff, portable state-of-the-art technology, and a rapidly growing fleet. We'd be happy to consult with you or provide a comprehensive oral evaluation in the comfort of their own home/space. Dr. Thapar-Dua will discuss your expectations and concerns at your appointment, then explain how the SENIOR smile team can help you and/or your family member maintain strong and healthy smiles for life!